What We Do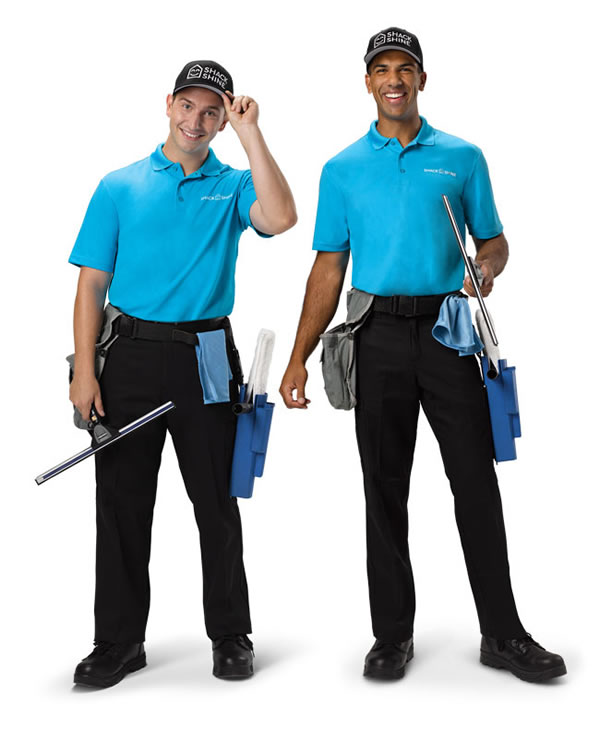 Exterior House Cleaning Services in Victoria
Shack Shine's commitment to help you remove grime from the exterior of your home is exactly what Victoria homeowners need.
With our rainy Victoria winters, we understand your need for a bit of help with an exterior house cleaning service. That's why we offer comprehensive services to tackle all of those hard-to-reach and difficult tasks—including moss removal. Our Victoria house detailing service ensures friendly, uniformed technicians arrive at your home in our shiny, organized vans to get the job done in just a single visit! In no time, your home will be positively shiny.
Gutter/Eavestrough Cleaning
Gutter cleaning is a key part of our exterior house cleaning service in Victoria. The buildup of debris and sludge in your gutters can easily cause damage to the home's foundation as well as its roof. Our goal is to remove that material in a safe way. We do that by eliminating the need for ladders (in most cases), instead of using gutter vacuums. These are powerful funnels that remove debris from your gutters and deposit it into large canisters. We then compost all of this organic material! We'll also clean the exterior of the gutter to ensure a shiny, like-new look. You can depend on Shack Shine for the most thorough gutter cleaning in Victoria, BC.
Window Cleaning
Interior and exterior window cleaning in Victoria, BC is an important part of home maintenance. However, it's also a tough job to handle. Shack Shine offers a comprehensive level of clean. We get every detail—even on those hard-to-reach windows. Even better, we'll move any home furnishings in the way, so you don't have to worry about them. Like a ray of sunshine on a cloudy day, you'll have incredibly clear views in no time. For window cleaners near you who will get the job done right, look no further than Shack Shine! We're ready to come make them sparkle like new.
House Washing
House washing is an important maintenance task for every homeowner in Victoria. House detailing that includes house washing helps to remove grime and buildup from the exterior of the home, reducing the risk of early deterioration. With Victoria's rainy winters, getting the exterior of your home cleaned is crucial.
Our house washing service is done using water-fed poles, hand scrubbing, and low-pressure rinsing to ensure a deep-down clean. Let us remove dirt, mildew, and stains from your home. It could prolong the life of your siding.
Moss Removal
Moss is common on the roofs of homes in the area, and it can be dangerous. Moss can cause your home to age quickly and can lead to roof, siding, or other surface deterioration. We use low-pressure rinsing and hand scrubbing for moss removal in Victoria. Our goal is to protect the surface of your home, but also to ensure a deep-down level of clean. Moss removal is essential for keeping your home looking its best and it is a key component of our Victoria house detailing service. Happiness in every detail.
Power Washing
Looking for power washing services near you? We've got you covered here, too! Power washing can effectively cleanse the exterior of your home or other horizontal surfaces, creating a like-new look. If your home has areas of concrete that are discolored, that grime can age your home and cause debris to build up so much so that someone could fall. We use power washing to properly but carefully remove all of this debris. There's no need for harsh chemicals either.
Pressure Washing
With the use of advanced technology, Shack Shine can strip away all of the buildup of material on many of the surfaces of your home. Let us tackle your patio, brick, siding, or most any other surface. Our pressure washing service will have them all looking like new again!
Christmas Light Installation
Shack Shine is ready to help you plan, design, and install your custom Christmas light display. We offer commercial-grade Christmas lights that are more energy efficient compared to the typical store-bought Christmas lights. We guarantee to make your home shine bright this holiday season. At the end of the season, our Shack Shine technicians will return to take down your light displays carefully for easy installation next year. If you're looking for a Christmas light installation service near you in Victoria, give us a call!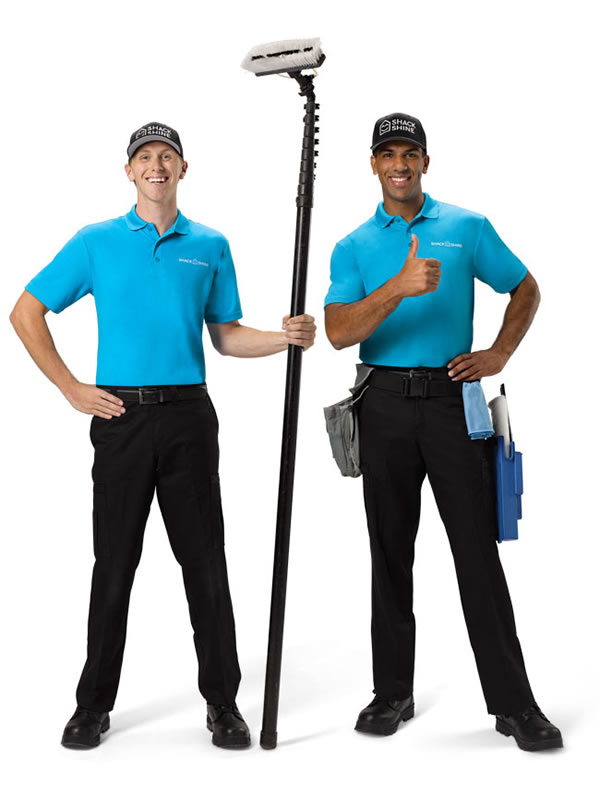 In the News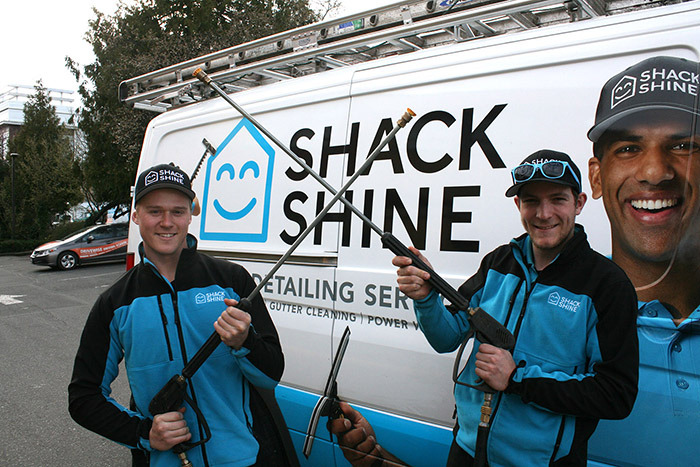 Robin Wenger still remembers the call from a panicking real estate agent, who needed the services that he and Jeremy Carlson offer through Shack Shine, a house detailing franchise based in Saanich.
Read More
Team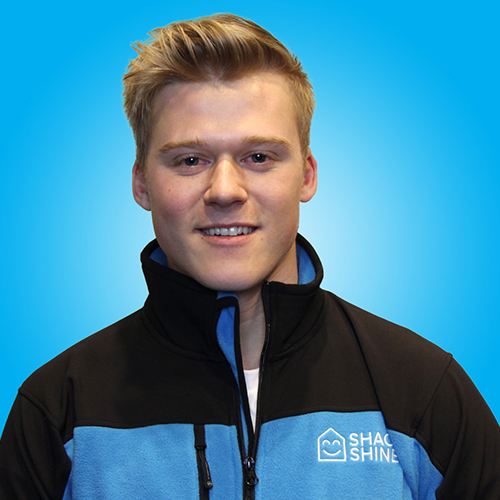 Shack Shine Victoria
Jeremy Carlson - Franchise Partner
My name is Jeremy Carlson. I am the Franchise Owner here in Victoria. I am beyond excited to serve you and your home for every house detailing need.
I recently moved from Kelowna, BC to start this business here in Victoria. I moved here because I realized school was not for me and I really wanted to buckle down and commit to a business. I was a business student at University of British Columbia and while I was there I honed my service industry skills by operating 3 award-winning painting franchises with College Pro. I took everything I made from these painting businesses, both money, and learning and have invested this into Shack Shine.
I couldn't be more happy to live here and serve as many of you as possible. From window cleaning to power washing, we look forward to making your home like new!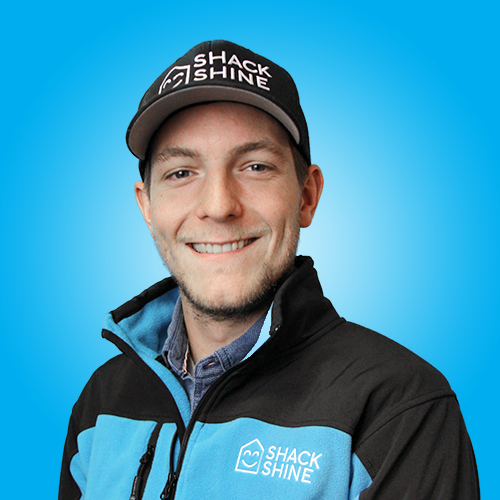 Robin Wenger - Franchise Partner
My name is Robin Wenger and I am one of two owners of Shack Shine Victoria. I was born and raised in Whistler, BC, and attended the University of British Columbia for Business Management. During those years I developed an interest in business and finance and in my third year of university I was recruited by College Pro Painters. My experience with College Pro allowed me develop core fundamental business skills and invaluable hands-on customer experience.
I jumped at the opportunity to start Shack Shine Victoria because I firmly believe in its vision and core values. House detailing is a fragmented industry with no clear leader and Shack Shine has the required leadership and systems to fill this position across North America. As we focus on branding and growth, we're doing just that! Plus I love being able to work and give back to my community. To be able to provide a quality, dependable service is incredibly rewarding.
Coming from Whistler, BC, the island lifestyle is a new, but still very excited change, where instead of skiing, I can be found surfing out at Sombrio, or mountain biking around the south island. I feel very lucky to live in such a beautiful place, while building a new company that homeowners will know and love not only across North America, but all over Victoria!
Cities Serviced
From gutter cleaning to moss removal, Shack Shine Victoria services the following areas:
Victoria Proper

Metchosin
Sidney
Sooke
Esquimalt
Gulf Islands
Victoria
Millstream
Brentwood Bay
North Saanich
Shawnigan Lake
Services
Shack Shine Victoria offers the following exterior home cleaning services:
Window Washing
Moss Removal
House Washing
Christmas Light Installation