What We Do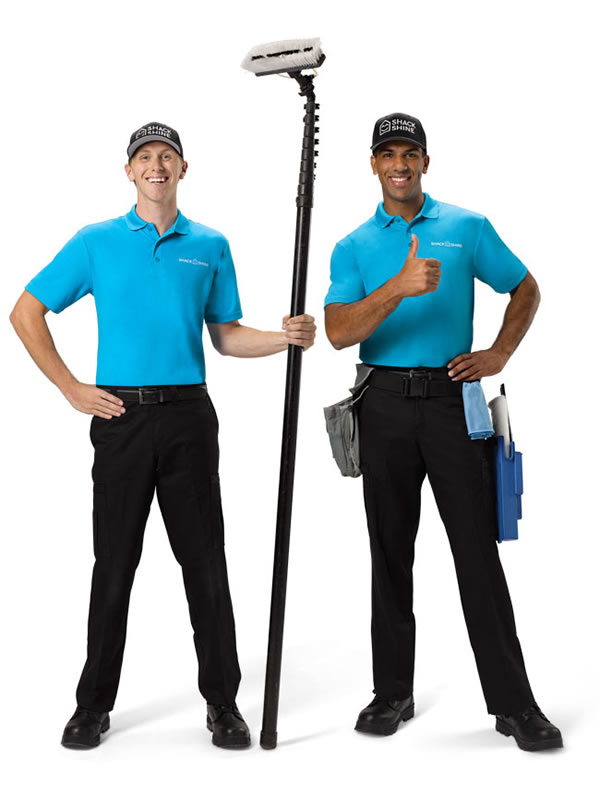 Exterior House Cleaning Services in Minneapolis
Shack Shine can help handle any of those exterior house detailing services you need in Minneapolis.
With our experience and trusted technicians, we can have your home looking positively shiny in no time. In one detailed visit, we'll take care of all of the exterior grime and debris that's impacting the way your home looks.
Our shiny, organized vans will arrive in your Minneapolis driveway with our friendly, uniformed technicians. In a single day, we can handle nearly all of the outside house washing and detailing chores you don't want to or cannot do.
Gutter Cleaning
Gutter cleaning no longer has to be that chore that takes up a full weekend to handle. Shack Shine's skilled technicians will help you restore proper flow to your homes gutter system without having you on a ladder. We use high-powered vacuums and filtered water to cleanse the gutters and to ensure they are moving properly again.
Clogged gutters cause water to overflow the sides, leading to damage running down the edge of your home and right to the foundation. Even over a short season, this can cause water to enter into your home's basement.
Window Cleaning
Let's not forget the windows. Our exterior house cleaning services in Minneapolis includes both interior and exterior window cleaning. We'll ensure you can clearly see out of your windows no matter how hard to reach they are. Even better, we're committed to getting the job done even if you're not home. Like a ray of sunshine on a cloudy day. Our house dealing service in Minneapolis will impress you with every visit we make.
Power Washing
Power washing is one of the most effective ways for our team to clean concrete and other hard surfaces around your home. This method allows us to avoid the use of harmful chemicals. This helps give your concrete a like-new look in no time!
Pressure Washing
Our pressure washing service is perfectly suited for your vinyl siding, brick, and other hard surfaces around your home. We don't use harsh chemicals, but we can remove years of grime and debris buildup using this proven technology. A home so bright, you gotta wear shades – that's exactly what you'll love about Shack Shine.
House Washing
We'll arrive at your home and handle moving any furniture necessary (and we'll put it back after we're done). When we get started, we'll use the latest technology to ensure your home's exterior is completely scrubbed. We do this using water-fed poles and pressure systems. This allows our team to remain off ladders while still providing a deep-down level of clean.
House washing is an important step in house maintenance because it removes the packed in layers of grime and debris. Every home in Minneapolis is likely to experience some level of exterior grime like this because of the changing weather patterns. Our goal is to cleanse it all away to minimize deterioration of the structure.
Roof Cleaning
Don't try to climb up on your roof, but most roofs in the community will experience a significant amount of grime and mildew buildup. It worsens as the summer sun heats it up and moisture builds. This damages your roofing and can lead to damage to the home's structure.
Avoid that with our deep-down roof cleaning. We use pressure to clean off this grime and to restore your roof to a like-new look. You'll love the way it looks as you drive up to your home.
Get a Quote Today!
Team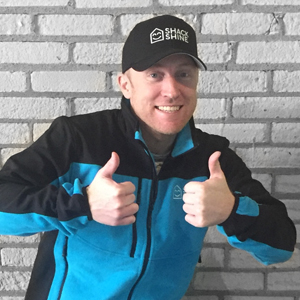 Shack Shine Minneapolis
Ben Cowan - Franchise Partner
My name is Ben Cowan and I am the owner of Shack Shine Minneapolis. I was born and raised in Saint Paul, MN, and currently make my home in Plymouth with my wife and three children. I am the proud owner of three other local businesses: 1-800-GOT-JUNK?, You Move Me, and 3CLICK Fitness.
For me, the decision to get involved with Shack Shine was a no-brainer: it has a fantastic track record and huge potential for growth. As the owner of two other O2E Brands businesses (1-800-GOT-JUNK? and You Move Me) I am excited to again partner with them on Shack Shine. Together, we're transforming the house detailing industry.
I love working with the great people of the Minneapolis. It's the perfect place to raise a family, and we try to spend as much time on the water as possible – boating, water skiing, and wake boarding!
Business Info
Shack Shine Minneapolis
1209 Tyler St NE Ste 160,
Minneapolis, MN 55413
Phone: 612-930-4544
Cities Serviced
Minneapolis
Plymouth
Maple Grove
Minnetonka
Eden Prairie
Edina
Bloomington
Blaine
Services
Window Washing
Roof Cleaning
House Washing